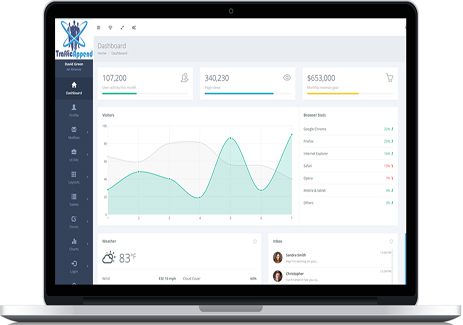 Why is TrafficAppend so unique & valuable?
Website visitors often visit your website and do not take action. You see your traffic but they aren't converting into customers. We help solve that problem and avoid loss of potential customers.
What can TrafficAppend tell you about action-shy visitors?
First Name - Last Name - Address - City - State - Zip - Email Address - Age - Income - Marital Status - Buying Habits - Lifestyle Preferences - Vehicle Year - Vehicle Make - Vehicle Model, and 400+ more fields.
Is it easy to implement?
TrafficAppend simply sends you a code that your webmaster (or your client's webmaster) can embed into a website (they only have to do this once).
The embedded code will AUTOMATICALLY send a daily batch of the IP addresses (website visitors) to TrafficAppend and in real-time, TrafficAppend AUTOMATICALLY processes the addresses into a workable prospect database.
Once processed, you will receive: the contact information along with an array of available demographic fields based on which fields are most valuable to you.
Once the code has been embedded into your website, you can set it, forget it, and consistently get automated daily feeds of workable information on your web traffic that INCLUDES contact information + prospective customer details.
What do I do with the returned info on my web visitors?
1. LEARN (based on demographic information) about your visitor traffic and who you SHOULD be marketing to.
2. Drop regular direct mail campaigns based on visitors that were on your site and didn't take action.
3. Send consistent e-mail campaigns to bring those visitors back to your site.
What kind of match rate can I expect?
This depends on the quality of traffic that's being driven to your website. TrafficAppend automatically removes bot traffic visitors and business IP addresses. On average, we are seeing a match rate of 48% against REAL HUMAN visitor traffic.
ONLY PAY FOR THE MATCHED IPs. MONTHLY PACKAGES AVAILABLE CONTACT US FOR PRICING. WE ALSO PROVIDE SOCIAL MEDIA APPENDING IF NEEDED!
(no minimum and you can pause your feeds at ANYTIME).